TRANSCAER® is seeking donations for the new Safety Train NOW! 
January 27, 2022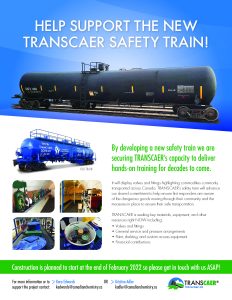 Since the retirement of the CCPX 911 tank car in 2018, TRANSCAER members and partners have been seeking ways to evolve the safety training program and replace the training tank car. Working in partnership with CIAC members and partners, the Railway Association of Canada, and Transport Canada under the Rail Safety Improvement Program (RSIP), the development of the new TRANSCAER Safety Train is currently under way.
The team has made progress on planning and designing the new Safety Train, and is now seeking donations to advance the project to the construction phase.
TRANSCAER is urgently seeking key materials, equipment, and other resources including:
• Valves and fittings
• General service and pressure arrangements
• Paint, shelving, and custom access equipment
• Financial contributions
TRANSCAER is seeking donations immediately, as construction is planned to start at the end of February 2022!
For more information and to donate material contact Kara Edwards or Kristina Adler.