Q+A with Plastics Division Member GreenMantra Technologies
January 28, 2022
Advanced recycling is a hot topic in Canada and a crucial aspect of developing a circular economy for plastics. We recently sat down with Domenic Di Mondo, the President of GreenMantra Technologies—a Plastics Division member and a leading advanced recycling company based out of Brantford, Ontario—to talk about his company, the opportunities advanced recycling provides, and the public consultation the Ontario Government is conducting on Advanced Recycling in the province.
GreenMantra Technologies is known as an advanced recycling company, but can you give us a bit of a deeper understanding of your operations – where you're located, the size of your staff, and some key goals the company is working toward?
GreenMantra Technologies is a world leader in the advanced recycling of plastics. We convert hard-to-recycled plastics into high-value polymers. We are a business-to-business manufacturer and our polymer products function as performance additives in a broad range of industrial applications including plastic processing, roofing and paving, among others. In each application, our additives improve product performance, manufacturing efficiencies, and enable higher recycled content levels. Our headquarters and manufacturing facility are located in Brantford, Ontario. We have an amazing team of over 40 employees and growing. Our goal is to be a world leader in the advanced recycling of plastics into high-value polymers.
What separates GreenMantra Technologies from other advanced recycling companies?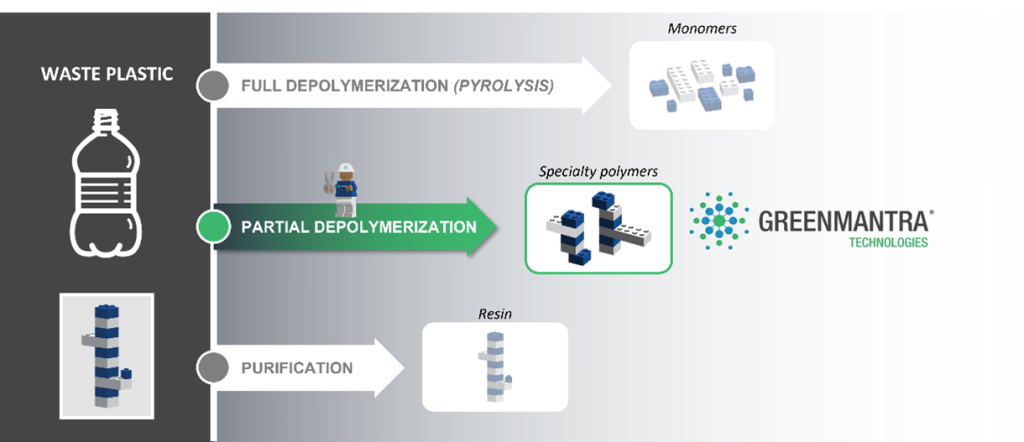 To understand what separates GreenMantra from other advanced recycling companies, it is important that you first understand the landscape of advanced recycling. To describe the different pathways and processes a plastic can take on the advanced recycling journey to become a resource and be used in second life. We'll use a lego analogy; let's say a large lego tower represents a polymer chain or plastic. That tower is made up of individual lego pieces which represent the chemical building blocks.
Different advanced recycling methods treat these structures differently. At the bottom of the figure, you have Purification. This process typically uses a solvent to remove all the colorants and additives from the material – effectively purifying the material without changing the actual structure of the plastic. On the other end of the spectrum at the top of the figure, you have full depolymerization, more commonly referred to as pyrolysis. This is the advanced recycling process most people are familiar with. These technologies break the plastic back down into its smallest components like fuels, oils, and monomers – in this Lego analogy, they take the tall Lego tower and break it back down into its small Lego bricks. In between those chemical processes, you have GreenMantra.
We are quite unique in the world of advanced recycling. We utilize a proprietary process to perform partial depolymerization of the plastic molecule into very precise smaller polymer segments. Again, using the Lego analogy, our process would be represented by the little Lego man, who takes the large towers and creates smaller towers. These smaller towers are still polymers like plastic, just smaller in size with very different physical and chemical properties. This allows GreenMantra to create unique specialty polymer products that can be used as value-creating additives in a number of different industrial applications, from polymer processing aids to asphalt and bitumen modification.
Developing a circular economy for plastics is crucial for Canada to have a healthy environment and a thriving economy. Can you explain the opportunity we have to expand advanced recycling and what that can mean from environmental and economic points of view?
The reality is there are current limitations to what we can recycle through traditional mechanical recycling. Canada's average plastics recycling rate is just 9 per cent, which means there is a lot of opportunities to increase the recovery of plastics. And it's some of the inherent technical limitations of mechanical recycling that have kept us at a low recycling rate. Advanced recycling can help change that, and offer a new pathway to recycle plastics as the resource and valuable materials that they truly are.
Could we achieve a world where all of the plastics we produce are designed for recycling? Could we achieve a world where all plastics are made from recycled or renewable sources, and the industry completely moves away from fossil fuel sources? The answer is "yes" through a combination of mechanical and advanced recycling processes. And as you transition an industry like the plastics industry to sustainable feedstocks, scaling this type of innovation has tremendous economic growth potential.
The Government of Ontario has launched a public consultation looking at advanced recycling in the province. As Ontario looks to modernize and harmonize its recycling systems, what role do you see GreenMantra Technologies and advanced recycling playing in the province?
The role of advanced recycling technologies, like GreenMantra's, is to integrate directly with the existing recycling infrastructure to capture more challenging plastic streams, which would have been landfilled. These technologies are complementary to mechanical recycling, taking streams that the existing infrastructure cannot economically process, and offering an outlet to decrease the amount going to landfills and into the environment. It also ensures the carbon resource in plastic is captured and reused. In the case of GreenMantra, these polymer additives are derived from products that may have had a very short service life—like a plastic bag—are recycled into high-value, long-service life products for construction and building infrastructure applications.
The ongoing pandemic has been challenging for everyone. How has GreenMantra Technologies coped with the ever-changing conditions of COVID-19?
Our focus throughout the pandemic has been on how to keep our staff safe while continuing to recycle plastic and deliver products to our customers. Like many companies, this meant making fundamental changes to the way we work day-to-day and finding new ways to interface remotely with our partners and customers. Despite these challenges, our business has continued to grow. We believe this is a testament to the level of commitment in the industries we serve, and the momentum that has been created to find sustainable solutions despite a global pandemic and uncertainty around every corner. Companies are still investing in reformulation work to develop more sustainable products, and GreenMantra is proud to support them in these efforts.
Are there any new projects or announcements on the horizon that you'd like to highlight?
We are excited about the continued growth of the business and the adoption of our products in various industries. Most recently we announced two separate paving trials completed with Nova Chemicals and Shell. In both projects, our additives were used to produce a more sustainable paving formulation for parking lots and internal roadways at their manufacturing sites. And in the case of the project with Shell, it represents the largest asphalt installation in North America formulated with recycled plastic products. These types of partnerships and projects highlight and validate the opportunity advanced recycling has at being a part of Canada's Circular solutions for plastic.