A Roadmap for Decarbonizing Canada's Chemistry Sector
May 24, 2023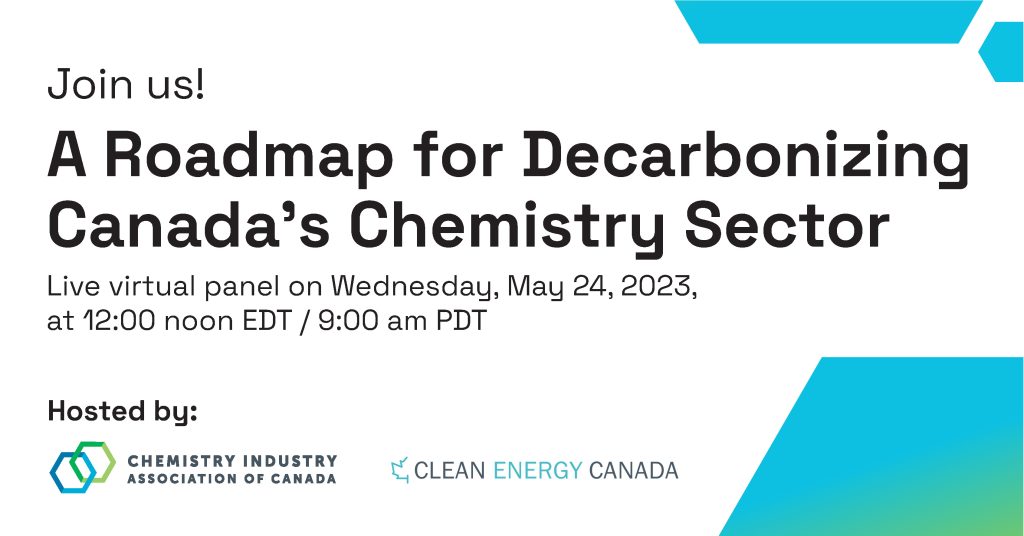 Live virtual panel on Wednesday, May 24, 2023, at 12:00 noon EDT / 9:00 am PDT
Join senior representatives of the chemistry and clean energy sector in Canada for an in-depth discussion about the opportunities and challenges to decarbonize Canada's chemistry sector in line with 2030 and 2050 commitments by industry and governments.
Discussion topics will include:
What is the current emission profile for the chemistry sector in Canada and how does it rank among Canadian industrial emitters?
What are the current actions underway and proposals under consideration to meet reduction targets?
What are the outstanding challenges that need to be addressed to achieve objectives?
How can we determine, evaluate and advance the best market opportunities for Canada in the clean chemicals sector?
How can government, industry and stakeholders partner to meet our targets?
Co-Hosts:
Clean Energy Canada (CEC)
Chemistry Industry Association of Canada (CIAC)
Speakers:
Bob Masterson, President and CEO, Chemistry Industry Association of Canada
Merran Smith, Founder and Chief Innovation Officer, Clean Energy Canada
Sarah Marshall, VP Sustainability, NOVA Chemicals
Michael Burt, Vice President & Global Director, Climate and Energy, Dow Chemical Canada
Special presentation by Oliver Sheldrick, Program Manager, Clean Energy Canada
Moderated by Kiki Cloutier, Principal, Earnscliffe Strategies