CIAC holds Virtual Hill Day on chemistry and plastics' essential role in achieving net zero emissions 
May 10, 2022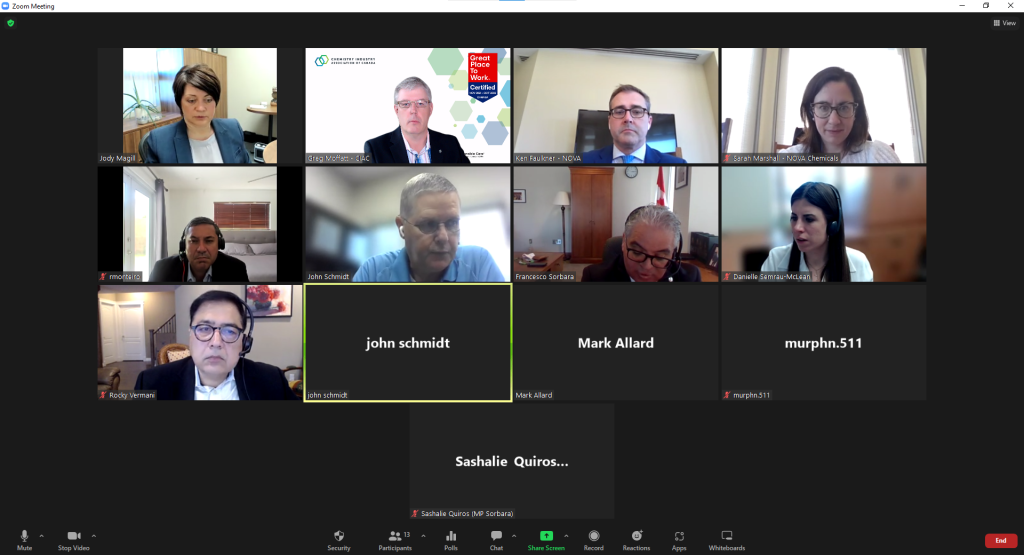 On May 10, The Chemistry Industry Association of Canada (CIAC) held an exceptionally successful series of meetings with high-ranking parliamentarians on chemistry and plastics' essential role in Canada's net-zero emissions and circular economy future.
The virtual Hill Day included 21 meetings with officials from all political parties throughout the day to discuss how Canada can encourage new investment to achieve environmental public policy goals.
"Chemistry plays a crucial role in the supply chain for almost all manufacturing in Canada. Decarbonizing this supply chain will require significant investment in research and development that ultimately leads to building a net-zero and circular economy through our products. To succeed, our sector will need to attract hundreds of billions of dollars of new investments in the coming decades. It is no longer a question of environment policy, it's a question of investment policy," said Bob Masterson, President and CEO of CIAC.
"We were very pleased at the turnout of our Hill Day for 2022, both in terms of members who joined us to amplify our messages and the parliamentarians who were receptive and encouraging our potential to deliver solutions for decarbonization of Canada's manufacturing supply chain."
CIAC noted the positive supports outlined in Budget 2022 and outlined three additional ways the government could make Canada more attractive for these world-class investments:
Extend the Accelerated Capital Cost Allowance with no phase-out to 2030 and consider making permanent to ensure that Canada's manufacturing sector can make critical investments to strengthen domestic supply chains;
Establish funding for recycling priorities focused on advanced manufacturing solutions in the chemistry and plastics value chain, and;
Designate rail service as an essential service to facilitate market access by Canadian producers and manufacturers and avoid the continuing disruptions to Canada's rail network.
CIAC thanks all officials who met with us and our members and looks forward to working together on these goals in the future.