CIAC holds successful Alberta Chemistry and Plastics Day
February 23, 2023
Close to 100 guests attended CIAC's Alberta Chemistry and Plastics Day at the Fairmont Hotel Macdonald in Edmonton on February 22. Topics of discussion included:
Sustainable transportation in the chemistry sector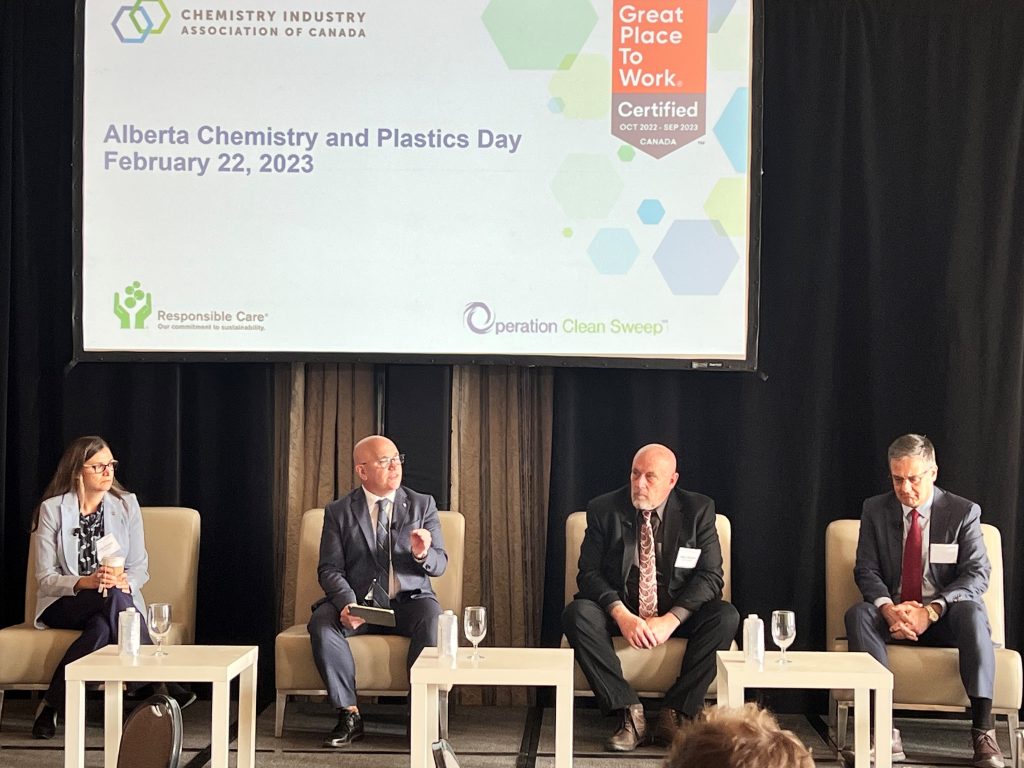 Under the Responsible Care® Stewardship Code, CIAC members must regularly review the value, impact, and safety of the products they make and the services and technologies they use. They also work with their business partners—suppliers, distributors, and customers—to ensure the stewardship and security of their products during their entire life cycle. With a focus on the carbon footprint of transporting chemicals and the role hydrogen can play, panel members discussed company specific and collaborative efforts to enhance transportation safety and sustainability.
Participants:
Bob Masterson, CIAC President and CEO
Mark Seldenthuis, Director or Business Development, HTEC
Emily Fattore, Senior Director Health, Safety and Environment, ERCO Worldwide
Mike Claussen, Manager Operational Risk, Trimac Transportation
Matthew Findlay, Director Mechanical Systems, CP Rail
Opportunities and challenges in advancing a circular economy for plastics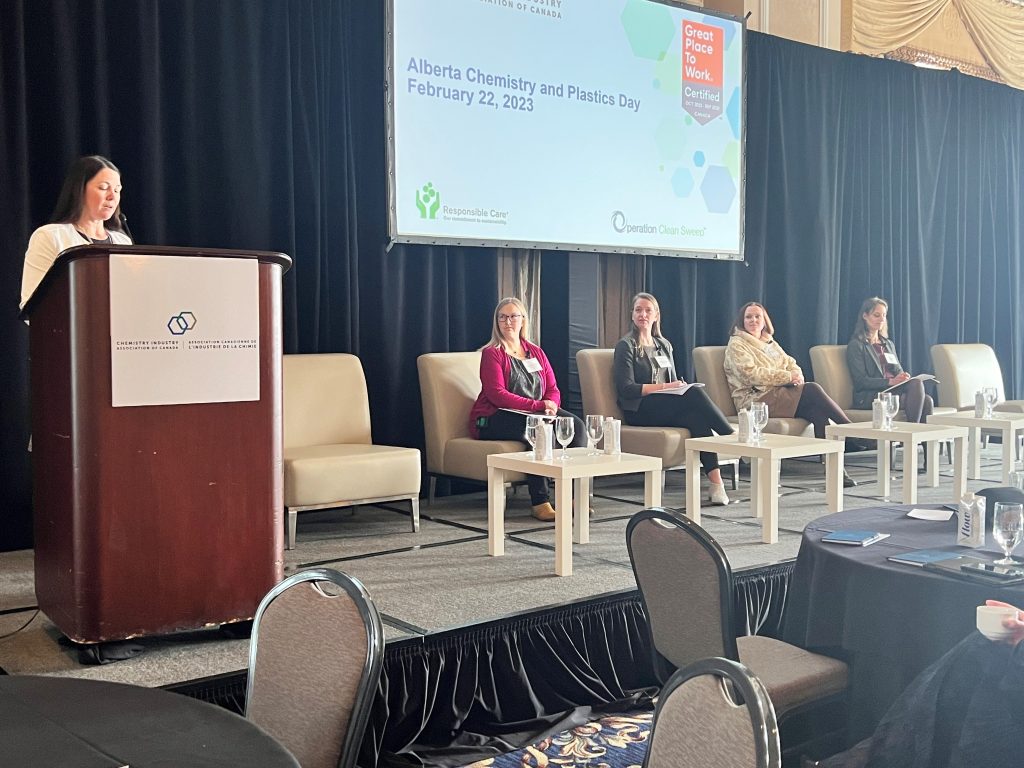 New research and innovation in advanced recycling – transforming plastic products back into their basic molecules, allowing the production of new resins, pellets, and plastic products – are critical to moving towards a circular economy for plastics. Investing in plastics recycling infrastructure and technology will increase the availability and use of recycled plastics in products. Given recycled plastic resins have a lower environmental footprint than virgin resins, it will also increase the availability of made-in-Canada, low-carbon products, providing an important trade advantage. Panel members discussed the development of a roadmap to rapidly de-risk and scale-up investments in the infrastructure and the innovation needed to accelerate the transition to a circular economy for plastics in Canada.
Participants:
Jaclyn Schmidt, Executive Director, Water and Waste Policy Branch Alberta Environment and Protected Areas
Christina Seidel, Executive Director, Recycling Council of Alberta
Tessa Vlaanderen, Associate, Dillon Consulting
Lyndsey Chauhan, Director, Marketing Communications, Circular Materials
Moderator: Christa Seaman, acting VP, Plastics, Chemistry Industry Association of Canada
Issues and solutions to transportation and supply chain challenges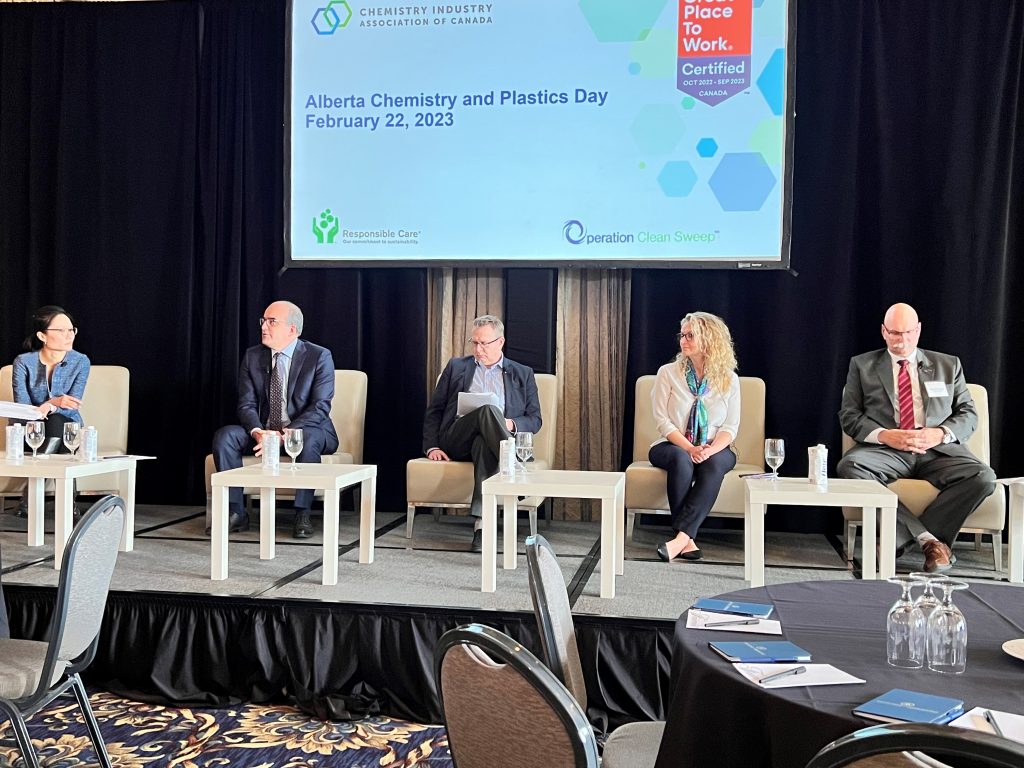 In October 2022, Canada's National Supply Chain Task Force produced a report on the key issues affecting Canada's supply chain operations. Included in the report are recommendations on how to make Canada's transportation supply chain stronger. Panel members discussed the National Supply Chain Task Force report's recommendations and what can be done in the short, medium, and long term to ease bottlenecks and improve efficiencies in the system.
Participants:
Jamie Siu, Partner and National Digital Procurement Leader, PwC (moderator)
Malcom Bruce, CEO, Edmonton Global
Kara Edwards, Director Transportation, CIAC
Greg Rogge, Director Land Operations, Port of Vancouver