Canada's industrial chemical sector starts 2022 on strong pathway
June 02, 2022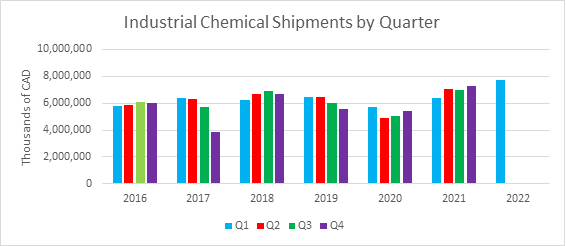 Canada's industrial chemical sector is off to its strongest start since 2018, according to recently released data from Statistics Canada.
Shipments of industrial chemicals set a record in the first quarter with $7.69 billion worth of products sold; a 20 per cent increase from Q1 2021 levels. This was led by a surge in basic chemical production to a new quarterly record of $4.9 billion as demand continues to recover from the COVID-19 pandemic. Resin and synthetic rubber shipments continued to show strength notching their third-best quarter ever with $2.75 billion in shipments.
Strong prices played a role in the first quarter's performance, while physical shipment of goods was impacted by transitory factors. Cold weather in Western Canada in late 2021, transportation-related delays and seasonal variance saw the volume of industrial chemical products shipped by rail fall 6.4 per cent in Q1 2022 from Q1 2021 levels. However, March 2022 data showed a stronger recovery in volumes shipped on rail and stronger GDP readings as demand for basic chemicals continues to recover.