Canada's chemical and plastic product shipments up 30 per cent over 2020
November 25, 2021
Through the first nine months of 2021, Canada's shipments of industrial chemicals are up 30 per cent from 2020 levels reaching $20.4 billion. If we remove the impacts of COVID-19 on 2020 shipments, 2021 performance is 7.7 per cent higher than 2019 and 2.4 per cent higher than 2018. If current trends hold, 2021 will be one of the strongest years on record for industrial chemical shipments. With strong demand trends across all industrial chemical sub-sectors, shipment performance looks set to continue through the rest of the year. Over the same period, Canada's total manufacturing output increased by 18 per cent from 2020, 1.7 per cent from 2019 and 2.6 per cent compared to 2018.

Shipments of basic chemicals are up 29.9 per cent from 2020 levels, are up 3.2 per cent from 2019, but trail 2018 by 2.3 per cent. Resin and synthetic rubber shipments have surged in 2021, up 44 per cent from 2020, 15 per cent in 2019 and 10.3 per cent from 2018. 2021 is set to be the best year on record for resin and synthetic rubber shipments.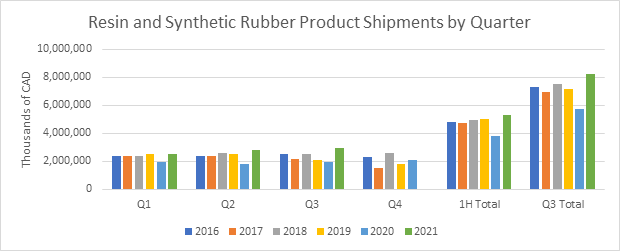 Plastic product manufacturing has also seen incredibly strong demand in 2021. Plastic product shipments are up 18.7 per cent from 2020 levels, have increased 15 per cent form 2019 and are up 10 per cent from 2018. Demand is strong across plastic product sub-sectors, with packaging and building materials showing the strongest performance. One spot of weakness can be seen in plastic auto parts which is 17 per cent of total plastic product shipments. Here, supply chain impacts have decreased sales by 5 per cent from 20202 levels, 35.4 per cent from 2019 and 38.6 per cent from 2018.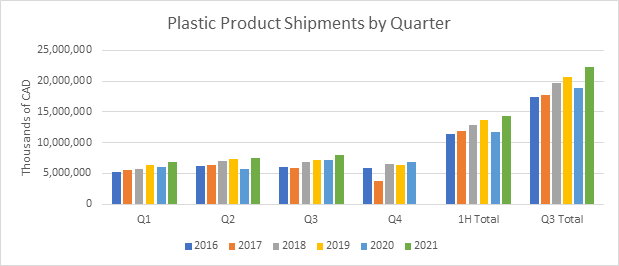 All data sourced from StatsCan – Monthly Survey of Labour and Manufacturing